NEW DELHI: Farmers' Union in certain states may be protesting against newly enacted central farm laws by stoking fears of uncertainty over minimum support price (MSP) regime, but farmers appeared to have defied such apprehensions on the ground through their sowing preferences.
The latest sowing data of Rabi (winter sown) crops, covering over 40% of the normal sown area of the season, shows that farmers placed their faith primarily in the crops which got higher MSP hike. Overall acreage of all Rabi crops put together recorded an increase of nearly 10% as on Friday compared to the corresponding period last year.
The new MSPs of pulses (lentil and gram) and oilseeds (rapeseed/mustard) had got higher hike (both in percentage and Rs per quintal terms) compared to the major Rabi crop wheat. So if we look at the current acreage, lentil and gram reported an increase of 30% each while mustard/rapeseed witnessed an increase of 9% — much higher than wheat which recorded less than 1% of increase in its acreage.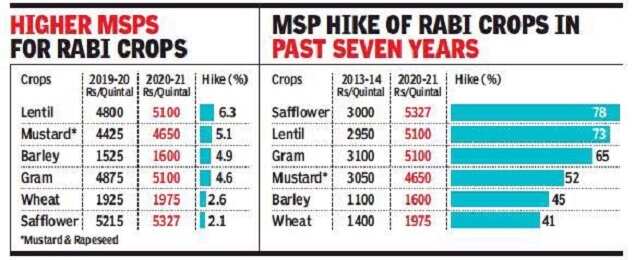 Sown area figures, released by the agriculture ministry on Friday, show that all Rabi crops have collectively been sown on 265 lakh hectares of area against 241 lakh hectares area during corresponding period in 2019 – an increase of 24 lakh hectares (10%).
"Increase in acreage of Rabi crops shows that the farmers have been quite enthusiastic about the government's reform measures. Additional attention to the farm sector during the Covid-19 situation resulted in better harvest and procurement of last Rabi crops and subsequent record acreage of Kharif crops," said Union agriculture minister Narendra Singh Tomar.
The acreage of wheat will certainly increase during remaining sowing period of the season, but the percentage increase at this juncture shows that the farmers have increasingly been opting for pulses (lentil and gram) and oilseeds (mustard and safflower) which, by virtue of MSP hike, may give them better return.
Data shows that the pulses (83 lakh hectares) scored over all other Rabi crops in terms of recording percentage increase in their acreage. Overall, acreage of pulses recorded an increase of 28% followed by coarse cereals and oilseeds.
Higher area under pulses is reported from Madhya Pradesh (7.23 lakh ha), Maharashtra (4.61 lakh ha), Uttar Pradesh (2.29 lakh ha), Gujarat (2.27 lakh ha), Rajasthan (1.25 lakh ha), Karnataka (0.59 lakh ha), Chhattisgarh (0.58 lakh ha), Jharkhand (0.27 lakh ha), Assam (0.22 lakh ha), Telangana (0.22 lakh ha), West Bengal (0.14 lakh ha), Odisha (0.08 lakh ha) and Uttarakhand (0.02 lakh ha).
Though wheat occupied the maximum acreage at 97 lakh hectares, its increase is marginal over corresponding sown area of last year if we look at all-India figures. Traditional wheat growing areas in Madhya Pradesh, Punjab and UP have, however, continued to move towards this major Rabi crop whose procurement had never been an issues in these states.
Officials believe that the fast-paced ongoing procurement operations of Kharif crops has also given the farmers confidence. "Announcement of new MSPs much ahead of the Rabi sowing season too seemed to have worked well. Higher hike in MSPs of pulses and oilseeds was aimed at diversification so that farmers may go for these crops in place of wheat, and get better return and help India reduce its import bills," said an official.
As far as ongoing Kharif procurement is concerned, the government agencies continue to procure paddy in Punjab, Haryana, Uttar Pradesh, Telangana, Uttarakhand, Tamil Nadu, Chandigarh, Jammu & Kashmir, Kerala, Gujarat, Andhra Pradesh, Odisha and Maharashtra with purchase of over 292 lakh metric tonnes (LMT) of paddy up to Thursday against the last year corresponding purchase of 247 LMT showing an increase of nearly 18% over last year.
Out of the total purchase of 292 LMT, Punjab alone has contributed 200 LMT which is 68% of total procurement.
Similarly, based on proposal from the states, approval has already been given for procurement of 45.10 LMT of Pulse and Oilseeds of Kharif Marketing Season 2020 for Tamil Nadu, Karnataka, Maharashtra, Telangana, Gujarat, Haryana, Uttar Pradesh, Odisha, Rajasthan and Andhra Pradesh under Price Support Scheme (PSS).
The government through its nodal agencies has procured 63625.68 MT of Moong, Urad, Groundnut Pods and Soyabean having MSP value of Rs 344.35 crores benefitting 36988 farmers in Tamil Nadu, Maharashtra, Gujarat, Haryana and Rajasthan as against the last year corresponding purchase of 48969.24 MT which is an increase of nearly 30% for pulses and oilseeds.
"These uninterrupted procurements of summer sown crops have also given confidence to farmers about future procurement mechanism. Besides, adequate water storage in reservoirs across the country due to good monsoon this year has also played its role in fast-paced Rabi sowing operations," said the official.