LONGEWALA/ RAJASTHAN: Delivering an unambiguous message to India's neighbours, PM Narendra Modi on Saturday asserted that the country would give a "prachand jawab" (fierce reply) if provoked.
Taking a swipe at China without naming it, Modi said the world is troubled by "expansionist forces" and "expansionism shows a distorted mindset that belongs to the 18th century".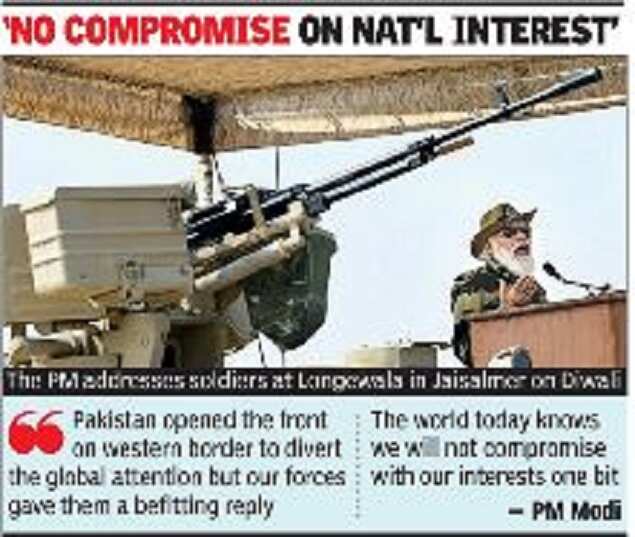 "The world today knows that we will not compromise our interests at any cost," Modi said while addressing soldiers at Longewala Post in Rajasthan on Diwali.
In a dig at Pakistan, he said Indian soldiers had entered the homes of the "sponsors of terror" and hit them, a reference to the surgical strikes against terror camps across the LoC.
Hailing the valour of Indian troops, he said, "If anyone casts an evil eye on us, our soldiers give them a fitting reply. This establishes the credibility of the Indian Army in the world. Today, the Army is engaged in military exercises with other big countries. We have strategic partnerships to fight against terrorism. Indian armed forces have showed that they can strike at terrorist havens anywhere, anytime."
Modi recalled the battle of Longewala, which has become part of military lore after Indian troops here successfully thwarted numerically superior Pakistani forces in the 1971 war.