NEW DELHI: India has become the third country in the world after the US and Brazil to record 1 lakh deaths due to the
Covid-19 pandemic
. The country crossed the grim milestone on Friday, when nearly 1,076 fresh fatalities took the
nationwide toll
to over 1,00,800.
The Covid toll in the US is more than double that of India at over 2.1 lakh while Brazil, with far less number of cases, has so far recorded more than 1.4 lakh deaths. However, in the past two months, India has reported the highest number of fatalities in the world, with nearly 63% of all deaths in the country coming during this period.
India reported 33,255 Covid-19 deaths in September, at a daily average of more than 1,100 fatalities. But, while the death toll has been mounting, India is still far below the world's worst-hit countries in terms of deaths per lakh population and case fatality rates (CFRs). At 7.5 deaths per lakh population, India is in the 18th position among the world's 20 countries worst hit by the pandemic. India's CFR, at 1.6, compares favourably with most countries, notably the US (2.8), Brazil (3), Mexico (10.4), the UK (9.2) and even Pakistan (2.1). However, other countries in India's neighbourhood have a better CFR —
Bangladesh
(1.4), Nepal (0.6) and Sri Lanka (0.4).
More on Covid-19
In balance, while India has the second highest Covid caseload in the world after the US, infections have been staggered over several months. This, and the fact that cases started rising late in India, seems to have kept mortalities relatively low. However, with a high load of active cases (over 9.5 lakh), falling temperatures as winter approaches and a festive season ahead, India has its task cut out in trying keeping Covid mortalities down.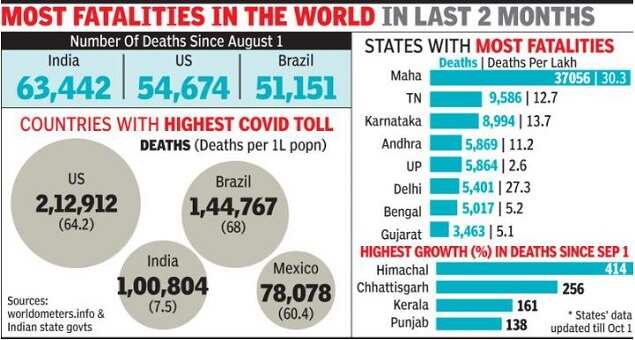 On Friday, India recorded over 80,000 fresh cases for the fourth day running. However, the day's case count, at 80,446, was below the numbers reported over the last two days, as per data collated by TOI from state governments. India's total Covid-19 caseload stood at 64,71,244. Active dropped marginally on Friday to a little over 9.5 lakh after rising over the past two days.
The pandemic continued to rage in Kerala, which reported 9,258 fresh cases on Friday. This is the first time the daily tally has topped 9,000 in the state. Kerala's previous highest was 8,830 recorded on Wednesday.
Maharashtra continued to add fewer than 20,000 cases for the sixth day in a row, but on Friday, it reported an increase in fatalities. A total of 15,591 new cases were reported, taking the total to 14,16,513 in the state, and with 424 fatalities, the total toll climbed to 37,480. Mumbai stepped up the number of tests to almost 15,000 a day and recorded 2,440 new cases, which is its second-highest single-day tally so far. The city's tally has now climbed to 1.72 lakh.
The maximum Covid-19 deaths in Odisha are in the age group of 41 to 60 years, an analysis of the deaths by the Odisha health department has revealed. Sixteen more died of the viral infection pushing the death toll to 875 on Friday. Altogether 3,600 more people tested positive for the virus, raising the virus caseload to 2,26,334.
Tamil Nadu recorded 5,595 new Covid-19 cases and 67 deaths on Friday, which pushed the case tally to 6,08,885 and total toll to 9,653. There are 46,294 active cases in the state.